What is Employee-Ownership?
St. Michael's Employee Stock Ownership Plan (ESOP) provides employees with an ownership interest in the company after one-year of employment. Eligible employee-owners earn St. Michael's stock based on the company's performance. Each year, the company is appraised for its market value by an independent evaluator. The company's value divided by the shares outstanding is the stock price. The share price is multiplied by each individual employee-owners' number of shares to produce the overall value of their ESOP account. The more time an employee has with St. Michael's, the more shares they can accrue. These shares are held in retirement accounts with tremendous growth potential for tax-deferred savings! This additional source of retirement savings does not cost employees anything out of pocket.
Everyone Wins with an ESOP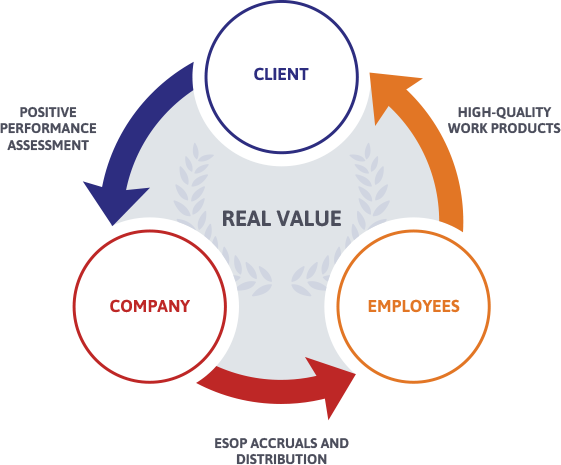 Clients. Our clients benefit from motivated individuals who have a stake in the outcomes. The better the work product we produce, the more positive our performance assessments become. As a result, we send highly motivated employee-owners to our client sites every day.
Employees. Data from the Department of Labor (DOL) for retirement plans with 100 or more participants show that ESOPs outperformed 401(k) plans in 15 of the 20 years between 1991 and 2010 and underperformed in only three (two were the same). The longer an employee-owner stays with St. Michael's, the more shares they will accumulate.
Company. According to Forbes, in 2014, there were more than 10,000 ESOPs in the U.S., making business owners out of roughly 11 million employees. These companies tended to outperform when compared to similar companies that are not employee-owned.
A Different Way of Thinking
Growing up many of us were warned, "If something is free, it's too good to be true." We are programmed to think that there is always a "catch." However, in the case of ESOP, that is absolutely NOT the case! Employee-owners earn shares in St. Michael's through your service to the company.
You can go out tomorrow and buy shares of Fortune 500, blue chip companies, but you cannot influence how the stock performs. Because you are buying equity in an external entity, you essentially invest and hope. For ESOP, shares are earned. WE control how successful we are as a company and WE reap the rewards of our hard work by positively impacting the company's value.
The Many Faces of Employee-Ownership
Our ESOP would be worthless without the efforts of so many employee-owners. Below you can see what being an employee-owner at St. Michael's is all about!