Chris Martinez: New Program Manager for SWMS
Posted May 21, 2020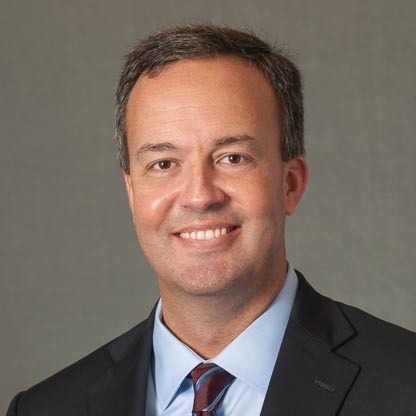 Earlier this Spring, St. Michael's hired retired Naval Officer and former St. Michael's Lead Associate Chris "Pedro" Martinez as the new Program Manager for the U.S. Special Operations Command (SOCOM) Wide Mission Support (SWMS) Contract. The position manages $150 million associated with 19 task orders as well as 115+ personnel (St. Michael's employees and sub-contractors) at 19 CONUS and OCONUS locations.  This contract provides accounting and financial analysis and additional program support for USSOCOM leadership, military and civilian staff, and active duty Operators.
Chris is originally from Houston, Texas. At 12 years old, he knew what he wanted to do with his life after seeing the iconic film Top Gun. He wanted to fly. In order to accomplish his dream, Chris set off to attend the Naval Academy in Annapolis, Maryland. Graduating in 1996 with a Bachelor of Science degree in Mechanical Engineering, Chris would qualify and serve as an F-14 Naval Flight Officer, later transitioning to the FA-18F Super Hornet. He was in various squadrons that were deployed globally in support of combat operations.
Throughout his career in the Navy, Chris served in various leadership roles that challenged him to look for innovative ways to accomplish the mission. After retiring from the Navy in 2018, Chris came to work for St. Michael's as a Lead Associate for Aviation Requirements, supporting the USSOCOM J8 Requirements Division. After another job transition, Chris came back to St. Michael's to be the Program Manager for the SWMS Contract this past March.
In his free time, Chris plays golf and tennis, and cheers on the Rays, Lightning, and Bucs. He enjoys spending time with his wife, Kasey, incoming University of Florida freshman, Megan, and High School senior, Nick.
Chris is excited to be back at St. Michael's because of the great people he gets to work with. He sees St. Michael's Core Values (Teamwork, Candor, Commitment, Dependability and Excellence in Reputation) as the same values he has always strived to live by.  Chris' goal as the SWMS Group C PM is to promote and establish an environment in which St. Michael's SWMS employees are able to achieve their personal and professional goals while continuing to provide outstanding critical support to USSOCOM, and to grow that body of work to the benefit of St. Michael's and its employee owners.